Description
Un bar de deportes puede ser el lugar más acogedor para ir en un barrio, sobre todo si el culto local no está aceptando nuevos miembros. Podrá cenar en buena compañía con esta oferta.
Blondies Sports Bar & Grill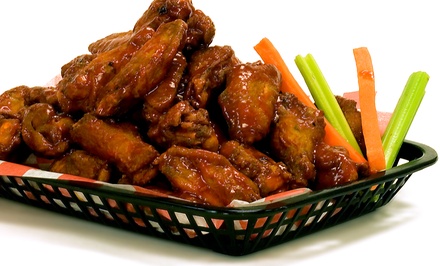 $15 for $30 Worth of Pub Food and Drinks at Blondies Sports Bar & Grill
Sobre Blondies Sports Bar & Grill:
En cualquier noche de la semana, el ambiente en el interior Blondies Sports Bar & Grill es tan eléctrico como los signos de neón de cerveza y televisores de pantalla grande de lado a lado que iluminan la barra de ladrillo-alineado. Las vistas y sonidos de partidos, UFC y los juegos de la NBA entretener a los invitados, ya que cortar en un rib-eye steak o tirar hacia atrás una pinta recién vertido de Bud o choque Top. Oído, coloridos banderines de fútbol de la universidad cuelgan del techo, alentando a los clientes a entrar en el espíritu competitivo sí mismos durante los torneos pong de la cerveza semanales.
[checkfront item_id="35,36" options=tabs partner_id="7″ lang_id="es" locale_id=es_MX"]